Healthcare business process outsourcing (BPO) is becoming increasingly popular among healthcare providers as it allows them to free up their time so they can focus on more important things: their patients, providing quality healthcare services, and growth. Because of the benefits that many companies are realizing, the global business process outsourcing market is expected to grow 9.4% annually between 2022 to 2030. For healthcare organizations, outsourcing certain processes to a BPO provider can be an effective way to control costs, optimize their HR operations, and stay competitive.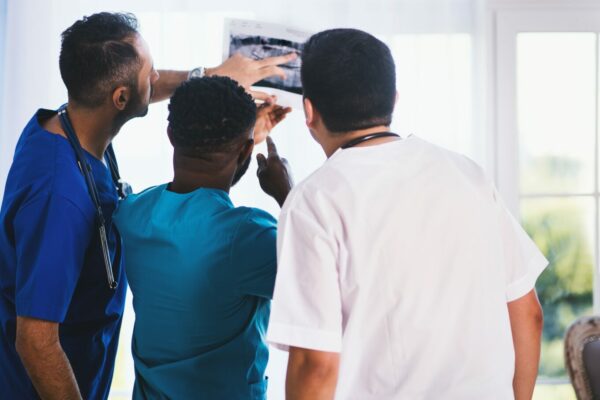 What Healthcare Business Process Outsourcing Does
Healthcare BPO involves the outsourcing of certain non-core tasks related to the medical field. These tasks fall under a variety of different areas such as HR, administrative, finance, clinical, IT, customer service, and more. Some of the most popular tasks that are often outsourced include:
Payroll processing
Onboarding/offboarding
Training and development
Performance management
Employee benefits administration
HR compliance and regulatory issues
Recruitment, job postings, and applicant tracking systems
Development and implementation of HR policies and procedures
For those in the healthcare industry, be it hospitals, doctor's offices, medical labs, dentists, ophthalmologists, or even ambulance companies, BPO can be an ideal solution for streamlining HR processes. Business process outsourcing in the healthcare sector offers a variety of benefits for both employers and employees. For employers, it can be an effective way to control costs as outsourcing certain processes reduces the need for additional staff and expertise. Additionally, working with a BPO can help ensure better compliance and accurate data tracking while also providing access to newer technologies that bring competitive advantages. For employees, outsourcing certain tasks can improve the efficiency of their job performance and enable them to focus on more important tasks like patient care or administrative duties. In the healthcare environment, this equates to dedicating more time to patients and improving their quality of care instead of handling HR tasks.
Benefiting your Healthcare Organization with Outsourcing
Human resources is an ever-growing and changing industry in the medical field, as technology advances and regulations evolve, new approaches must be taken to ensure efficient management of staff. Outsourcing HR tasks can provide many benefits for medical practices and healthcare organizations, and by partnering with an HR outsourcing firm, healthcare organizations gain access to experienced professionals and state-of-the-art technology that is tailored to their specific needs. This provides ready access to resources that can help save time and control costs while still providing quality services. By outsourcing select tasks such as payroll processing or recruiting, companies gain cost-effective access to expertise that may not be available in-house.
Another key advantage of outsourcing HR-related tasks is increased productivity within the organization itself. By taking away tedious administrative duties from staff members, such as onboarding new employees or handling compliance documents, it allows them to focus on higher value activities that add more value overall such as employee satisfaction initiatives or investing further into company culture strategies. Not only will this make existing staff feel more valued but also increase efficiency throughout all levels of the organization allowing it to run smoother than before.
For medical practices and healthcare organizations, HR outsourcing can provide a way to gain access to the latest technology, best practices, and expertise tailored to their needs while also helping them control costs. By partnering with an experienced HR outsourcing firm, such as Corban OneSource, it provides ready access to resources that can help increase efficiency and productivity throughout the organization while still providing quality services.
The Need for Healthcare Business Process Outsourcing
The need for healthcare BPO is increasing as more organizations are looking to outsource certain tasks to maintain operational efficiency and reduce costs. Additionally, the growth of digital technologies such as artificial intelligence (AI) and automation has made it easier for companies to access the latest services without having to invest in costly infrastructure. Healthcare organizations that insist on keeping their HR operations in-house face the challenge of staying up-to-date with ever-changing healthcare regulations and technologies, which can be time-consuming. In addition, they may encounter problems with compliance and data accuracy.
At Corban OneSource, we have experience in helping companies with 75 to 6,000 employees with their HR outsourcing needs. We understand the unique challenges that healthcare businesses face when it comes to managing their operations, which is why we offer a full-service solution that helps free up time so you can focus on growth.
Common Healthcare Problems that BPO Services Solve
The healthcare industry can be complex, and with regulations constantly changing companies need to stay up-to-date. By outsourcing certain HR functions, healthcare organizations can eliminate the need for maintaining internal staff or investing in expensive systems and technologies. By working with a BPO provider, they can maintain compliance and accuracy while also reducing costs and freeing up resources.
BPO providers are experienced in managing the unique needs of healthcare organizations, allowing them to manage their HR operations without compromising on quality or accuracy. If you are a healthcare organization dealing with massive amounts of data and paperwork, outsourcing can be an ideal solution to streamline HR processes and free up resources that are usually spent dealing with administrative tasks.
Solving Healthcare Business Process Complications with Outsourcing 
When healthcare companies from hospitals to medical labs outsource their HR tasks, they become more efficient and cost-effective. BPO solutions can reduce costs while freeing up resources to focus on growth, patient care, and customer service. Corban OneSource takes pride in helping healthcare companies meet their HR needs with our full-service solution that ensures compliance, accuracy, and quick turnaround times. Outsourcing procedures help 57% of organizations focus on core operations, and for healthcare companies, this can mean more time to devote to patient care. Outsourcing is the way to go in HR, payroll, or administrative tasks. Commonly outsourced areas for healthcare include:
Data analytics
Employee onboarding
Benefits administration
Recruiting and hiring processes
Payroll and compliance management
Compliance with healthcare regulations
Whether you are a hospital, doctor's office, medical lab, or ophthalmologist, Corban OneSource can help you with your healthcare business process outsourcing needs so that you can focus on growth and patient care. The experienced team at Corban OneSource understands the unique challenges of healthcare organizations and works with them to customize their solutions so they can maintain operational excellence.
We provide our clients with access to the latest technologies, rapid implementation, and a wide range of services that ensure accuracy while reducing costs. With Corban OneSource, you can streamline your HR tasks and free up time so you can concentrate on growing your business. With experience helping companies with 75 to 6,000 employees manage their HR and BPO outsourcing needs we will be able to streamline your healthcare organization. Explore our complete offering of outsourcing services and see how we can help you take the stress out of HR and business processes.