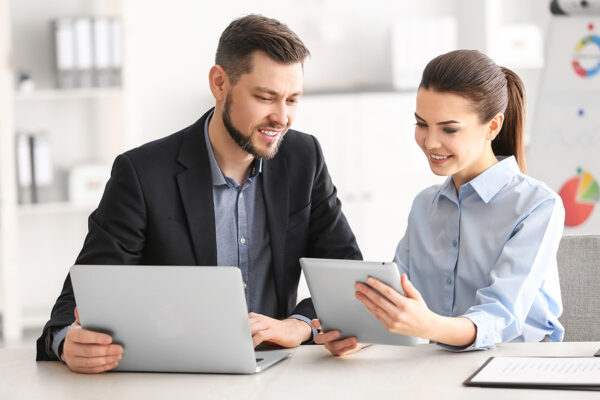 When I was fresh out of college and first starting out my career, I felt like the world was my oyster, and I could do anything and everything I wanted to do. I started my first job and quickly came to the realization that there was skill Issue.  I needed to have skills that were not taught in my college courses. These were the skills that came from being seasoned in the workforce. However, I also discovered that I happened to possess knowledge of technology that my older co-workers did not. Our relationships soon took on a different role than I expected – both as a student and a teacher. Sometimes, it seems like every single day there is a new piece of technology on the market.  Keeping your and your employees' skills up-to-date has become more important than ever. Now, there is some technology that I have no idea even where to begin to start using it, but my co-workers do.  This is how to avoid a skill Issue in your company.
It's common to turn to external training, especially online, to learn new technologies. Consider the experience and knowledge that already exists in your company. The question is how can you tap into this knowledge. You have already put in the work and time to hire the best people for each one of positions in your company. Therefore, you have experts in wide variety of skills right in front of you.  For example, one of your employees might be well-versed in Adobe Creative Suite. Ask them if they would like to teach other employees how to utilize the Adobe programs. As Entrepreneur Contributor Will Stanley said, "Help workers grow professionally, give experts an opportunity to teach what they know and develop interdepartmental relationships within a company. It's a win-win for everyone." Using peer-to-peer learning is an efficient and inexpensive way to transfer knowledge. Also, it's most likely relevant to the employee who is learning because it is coming from someone who understands the career field they are in.
Developing interdepartmental relationships not only helps your employees, but your company as a whole. The more each department understands the needs of other departments, the better. Understanding and knowledge of all departments allows for everyone to help each other and the company. Although, learning from a colleague doesn't have to mean picking up a specific new skill set. If you or another is interested in another department, sit down with someone and ask them questions. Offer them some insight on how your department operates. Soft skills are something that can be picked up as well. For example, Henry Fan states, "Perhaps one of your coworkers is very personable and handles client interaction very well. Follow their lead and learn new ways to communicate like this individual does." Simply observing and talking to other employees offers a range of skills to be learned.
Whether it's a tangible skill or more of a interpersonal skill, the opportunities to learn from others in the workplace is practically endless. Although, is there really ever an end to education? It's possible that I have learned more out of school than in it, especially from my co-workers and leaders.
Our employee care center can help free up time for current HR staff such as a skill Issue by taking away the burden of phone calls. We also offer an advanced technology platform to help make better business decisions. Our difference is the comprehensive and customized HR solutions we provide to meet your organization's unique needs. When you partner with Corban OneSource, you can rely on our team of HR professionals to help your organization save time and control costs while also increasing efficiency and compliance. Contact us today to learn more about how we can help support your charity's HR needs.  We specialize in companies with 75 to 6,000 employees.