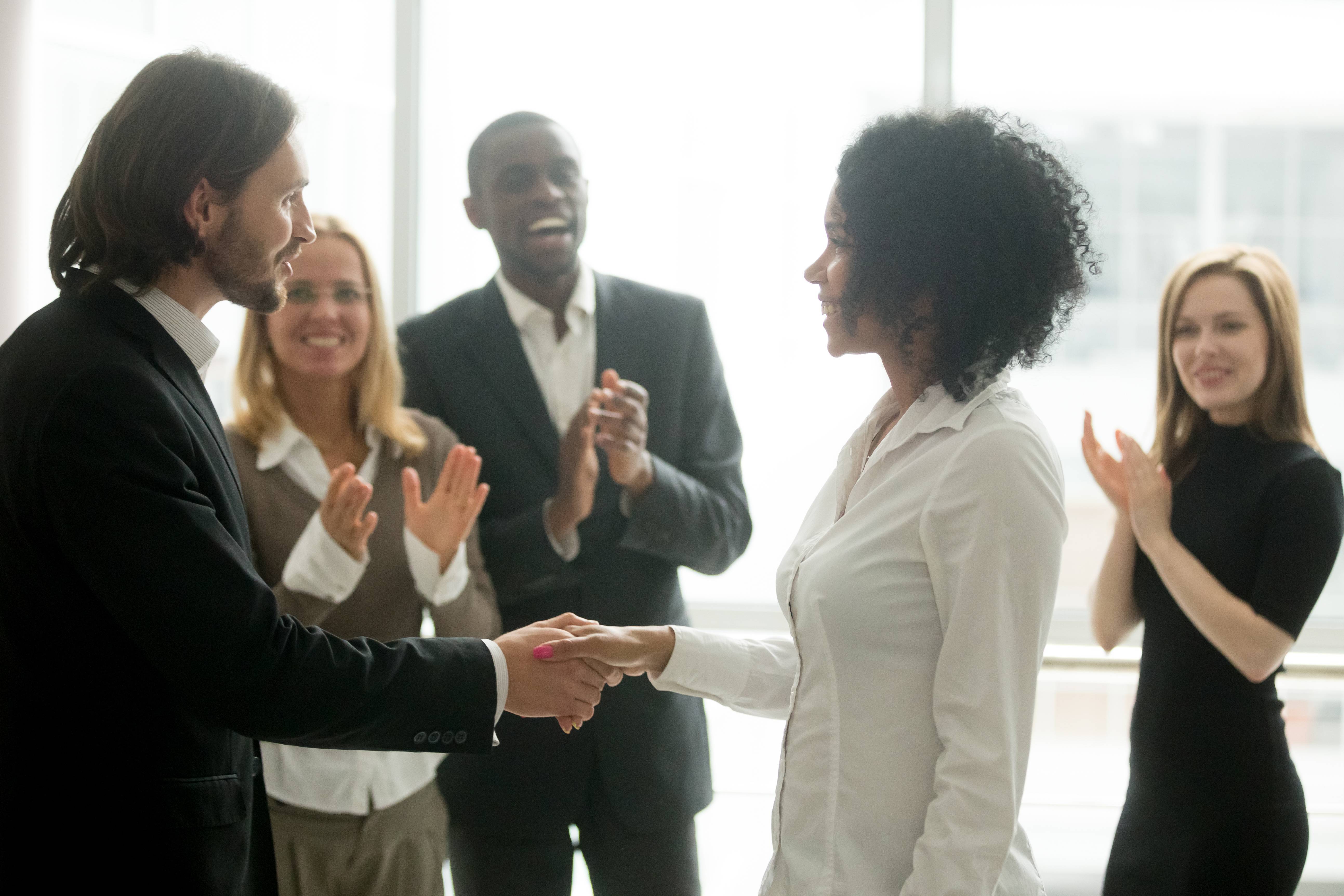 Whether you own a medium business with 75 employees or a large corporation with 6,000 people, you pay them with the understanding that they are doing their job to ensure your continued success.  It sounds cut and dried, but when you add in the human dynamic, emotions come into play and you have to take those into account as well.  Many of these are employee appreciation ideas on a budget.
Humans, by nature, like to feel that they are appreciated.  In fact, Forbes Magazine states that engaging employees in things like development planning, or other activities that involve showing your staff that you understand that they are important, builds loyalty, which increases productivity, and attracts and keeps talented employees working for you.  Those who feel underappreciated or undervalued are likely to search elsewhere and leave when a more attractive option appears.
A simple thank you goes a long way for many, but on a daily basis in a work environment that isn't always feasible.  Instead, many employers opt for random rewards or big occasional "thank you" celebrations that employees look forward to annually.  Here are 63 employee appreciation ideas to show your staff that you appreciate their hard work, their loyalty and them as individuals, without having to break the budget.
Employee Appreciation Ideas:  Incentives
Having an employee reward program in place that you use consistently is a smart way to boost productivity and morale on a daily basis, ultimately making you more money while keeping your staff happy.  Reward employees with things like the following:
Take them to lunch.
Set a goal or challenge with the winners' reward being a lunch with you. This can be individually, by department, or with the whole company. While you are there, mingle and set the tone for everyone to relax and socialize with people they may not know well.
 Achievement Certificates
When we were in school, these little sheets of paper made us feel special.  As adults, they still do. Choose specific achievements that show that you understand the importance of your employees' jobs.
 Casual Day
Award certain goals with coupons allowing employees to dress casually, wear jeans, or do something to make them enjoy standing out while still being professional for a day.  This is definitely one of the  employee appreciation ideas on a budget.
 Peer Recognition
Thank yous don't always have to come from management to make someone feel appreciated.  Incorporating a peer-to-peer recognition program where hard work and good deeds are recognized in front of others is an easy way to improve employee interaction and morale.
 Use Social Media to Say Thanks
Take a 30 second break to give a shout-out on Twitter to that employee who went the extra mile that day or looked like they could use a little boost from a cheerleader.  Getting a picture or taking a selfie with that person can be the icing on their shout-out.
 Set up a Charitable Donation Incentive
Set goals or quotas and when a person meets them, allow them to choose a charity where you will contribute a predetermined amount of money in their name.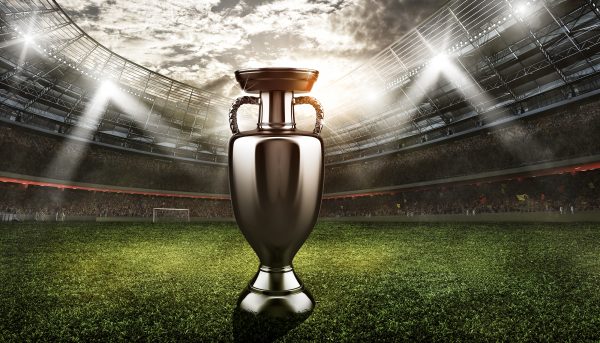 Team Trophies
Purchase or make a trophy, hat, or special item saying "Top Team," "Employee of the Week," or other title and award it to whoever has earned it that week, along with a verbal thank you or encouragement in front of other staff.
 Use Your Website For Employee Recognition
Choose an employee each week or month and get their "story."  Their interests, passions, life, and what they do to make their job successful and help you and your company.  Have your human resources, a writer, or someone (or yourself) turn their replies into an inspiring section on your web page where you express your gratitude.
 Thank You Notes
A handwritten thank you note is extremely rare nowadays, but goes miles towards showing you appreciate someone.  Personalize the note so that your recipient knows it was heartfelt and not a rote saying you give everyone.
 Reward Effort
Don't just focus on outcomes and achievements.  For some, the work is a long, hard road but they get there at a slower pace.  That shows dedication and perseverance that may not be a trait in others who easily hit the target without much effort.  Dedication and effort are just as important, if not more, as output.
 Use Company Themes to Determine Your Rewards
Be unique.  If you have a computer business, use that theme to inspire your rewards.  On the one year anniversary of an employee's loyal work, give them an iPad or something representative of something that your company creates or uses.  After five years, kick it up to a vacation to a location significant to your business. Do this consistently, regularly soliciting feedback on what works and what doesn't.
 Dole Out Appreciation Daily
Send a text or an email, or take a minute to stop in person and say thank you.  Again, be sure the thanks are personalized and specific.
 Show Off Success
Display evidence of some of your staff's best work and outcomes proudly where clients and customers can see it.  Reference it occasionally so they know you notice and appreciate their hard work.
 Breakroom Boasting
Make a bulletin board section in the breakroom for employees to showcase their achievements as well, or for other employees to brag about what awesome work they have seen being done by those who don't brag by nature.
 Monthly Drawings
Allow employees to nominate their peers on recognition forms for deeds well done or acts of service to others.  Do a drawing at the end of each month for a prize.
 Switch Jobs for a Day
After meeting a big goal or a great challenge, reward a hard-working employee by stepping in their shoes for the day and letting them act as your supervisor.
 Destination Meetings
If you have a large company, or a business that has a parent or main sponsor organization in a fun resort area, host your next business meeting there and provide a rebate for travel expenses.
 Leader of the Day
Like Employee of the Week, the Leader of the Day is someone who has shown role model qualities.  Let them choose the music and office food for the day, or give them other bonus jobs.
 Technology Bonuses
When your staff has met regular goals, upgrade their technology parallel to their growth to give them an incentive to continue to grow.
 Training Bonuses
Send those employees who show dedication and commitment to growth for paid continuing education.
Employee Appreciation Ideas:  Fun Activities
Employee appreciation ideas for large companies can sometimes get costly.  Instead of expensive individual rewards (or in addition to them), try some of these to reward your staff for their hard work.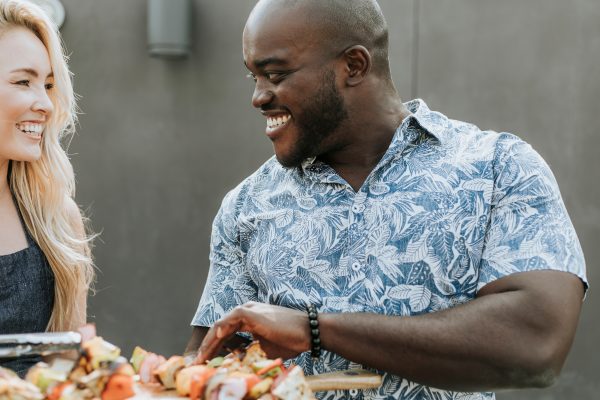 Host a Company-Sponsored Barbecue
Hire an outside vendor to cook and serve – your employees want to feel that this is a reward, not extra work. Invite their families and take the time to get to know each person as the unique individual they are.
 Make Meetings Memorable
Show you understand that your employees' time is valuable by only making meetings mandatory if they are urgent and crucial.  When you do have to have a meeting, make it fun by scheduling activities or an ice cream party before or after the information is given.
 Create Seasonal Atmospheres
Four times a year, decorate the office to match the season, making the environment an enjoyable place to work.  Bring in a blow up pool (empty) for staff to relax in during their breaks during the summer, a pseudo-fireplace for marshmallow roasting during the winter, and other items that can be stored for use year after year.
 Take Your Team Outside
Who likes being cooped up all day every day when they know there's a gorgeous day outside that they are missing?  If your employees can work outside and still accomplish their activities, let them! If not, stop work for 15 – 20 minutes and send everyone outside for some fresh air.  That influx of vitamin D is helpful for productivity and mental alertness as well!
 Staff Recreational Activities
Rent a couple of bowling lanes, buy tickets to a ballgame or host a beach day at someone's lake house.  Again, make sure the company foots the bill for the refreshments, service and entertainment and just let your staff relax and do some team building naturally.
 Join in Community Events
Pay attention to what is going on in your town, and join inasmuch as you can.  Relay For Life, marathons, charity ball games, etc., are all a great way to advertise your company and invite your staff to have fun for a good cause.
 Host a Game Night
This can be as simple as some board games and cards or video games set up on large screen TVs in the break room.  It can also be as in depth as life-sized chess pieces on a lawn checkerboard, costume play, or a poker tournament with prizes.  Whatever it is, the goal is to have fun.
 Family Show Off
Create a section in the breakroom for employees to show off their families, pets, hobbies and other interests and passions.  This gives you an opportunity to get to know them personally, and to connect shared interests with other employees, building morale and sparking conversations.
 Take Your ___ to Work Day
Pet, child, spouse… we love to share our work, where we are five days a week (or more) for huge chunks of our days, with those who we care about most.
 Health Fair
Sponsor a health fair to promote wellness and show your employees you care about their health.
 Long Lunch
Spring an extended lunch on the whole staff.  Bonus appreciation points if you provide an in-house free lunch for those who opt to stay at work.  A great one for employee appreciation ideas on a budget.
 Cater Breakfast or Lunch
On those busy days when you have noticed deadlines are high and morale is flagging, plan a catered breakfast or lunch with staff favorites.
 Happy Hour
Take your hard working employees out for happy hour fun, on the house!  You might even sponsor some transportation home if the fun looks to possibly get a little extra happy.
 End of Year Party Celebrations
Kick off the end of one year (whenever you celebrate it) and the beginning of the next with a company party.  Welcome spouses and children (or not) and make the goal to have a great time!
 Create an Employee Mentoring Program
Allow employees to volunteer to cross train co-workers from other areas of the company, new employees, or even Big Brother/Sister types of services and provide time and planned programs for the mentoring activities. Yet another of the employee appreciation ideas on a budget
 Spa Day Fun
Bring in a massage therapist and a manicurist and rotate your employees through ten minute (or more) pampering sessions. They'll return to work refreshed and rejuvenated, and appreciative of the job they have.
 Team Retreat Days
Book a resort stay somewhere luxurious, invite your team and set up (or hire someone to set up) team building events.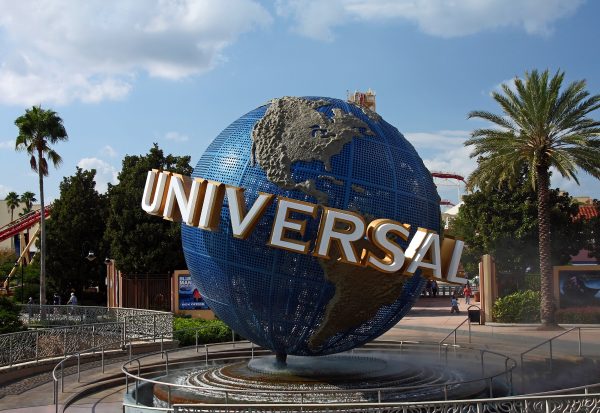 Theme Parks
Buy bulk tickets for your staff to hit a theme park for a day with some time to get to know each other, either on or off the clock.  They'll love you for it and look forward to the next team building opportunity.
 Excursions
Fishing trips, half day casino cruises, dinner theaters, murder mystery trains, escape rooms.  They are all excellent team building!
Segways
A good way to combine fresh air and exercise with those who may not be able to ride bikes, segways can be a great opportunity to sightsee areas of your city you may never have explored, learn about the history, and squeeze in some business talk and team encouragement.
Employee Appreciation Ideas:  Gifts That Keep on Giving
Rewarding prizes is great, but sometimes you just need to give gifts with no ulterior motive or design to get them.  Remember, most of these gifts are able to be written off on your taxes, so it's a win-win!
Performing Arts
Often, companies get discounts if they buy theater tickets in bulk.  If you have a nearby theater, purchase tickets for an upcoming event and give them to your employees as a thank you.
Time
The most valuable gift of all to many is the gift of time.  Reward your staff with paid time off, even if it is a holiday or a slow afternoon. The best possible of the employee appreciation ideas on a budget.
Recognize Important Dates
Keep a calendar of birthdays and anniversaries and give small gifts on those special days.  Letting your employee know you have thought enough of him or her to get a gift and hand-deliver it is a great way to show your appreciation.
Art Appreciation
Hire a local artist to create a humorous portrait or caricature of individual employees doing what they enjoy most.  Not only is this an inexpensive way to support your local struggling artist community, but it shows your employees that you pay attention to them and their interests.  It also is something they can keep forever as a reminder of your appreciation, inspiring further loyalty.
Secret Santa Fun
Suggest a company-wide secret Santa game, and participate yourself!  Set a cap on the gift budget, but allow office time for the gift exchange and make it a fun time with snacks and refreshments.
Invest in Their Education
Give the gift of a training course in an area that your employee wants to grow in, and include time for them to complete it on company time if it will benefit you indirectly anyway! (This can also be an incentive.)
Breakroom Benefits
Randomly provide a breakfast or lunch in the breakroom, keep snacks stocked up (within reason), or surprise your staff with a "thank you" cake or other treat. Another one of the employee appreciation ideas on a budget
Company T-Shirts
Have matching t-shirts or hats designed with your company's logo and give them to your staff as a random token of appreciation.
Company Mugs
In the same vein, design a coffee mug with your company's logo.  Fill it with anything you think your staff would appreciate: a Starbucks gift card (or equivalent), coffee packets, or candy, and surprise everyone by leaving it on their desks the night before they come to work.
A Tank of Gas
Transportation is a necessary evil, but for many people that tank of gas money could go towards other necessities or needed extras.  Give everyone a gas gift card, or use it as a random gift to say thanks.
Random Check Bonuses
A $25 or $50 (or more) random bonus (non-taxed, preferably) is a great way to let your employee know you are grateful for their hard work.
Time Off Passes
Give random gifts of thirty minutes late or time off coupons.  These will be much appreciated on those days the alarm clock doesn't go off or a child has a parent invite for a school activity.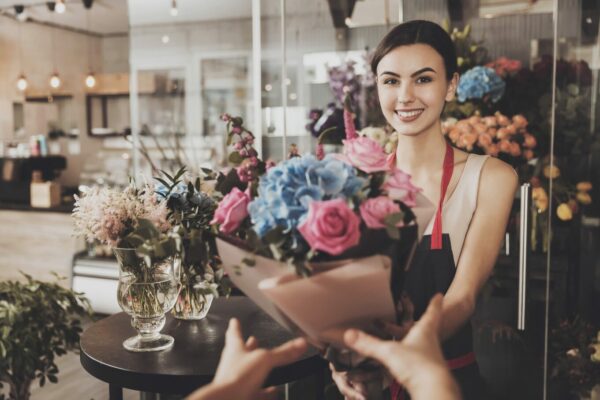 Send Flowers
Contrary to popular belief, they are not just for women.  The right plants can set a calming or invigorating atmosphere in the office, and also show your thanks.
Gym Memberships
A win all around, this may sound expensive, but bulk memberships can actually cost less than many other large company options and gains the added benefit of helping your employees focus on their health and cut down on sick time.
Shopping Spree
What doesn't sound like much to you could be a shopping spree for your staff.  Give them a $50 or $100 gift card to go wild with.
Paid Vacation
In addition to their normal vacation, throw in an extra day for recovery time, paid, or just let them choose how to take it.
Personalized Gifts
Many people have spouses or other close family who sell personalized gifts for an income, or local businesses support their families through these items.  Order a purse, mug, hat, etc. personalized with initials or names of your staff for that wow factor and to support small businesses.
 Retirement Matching
Put a bonus match towards everyone's 401K or retirement plan one week.
 Birthday Bonus
Have a consistent amount that you give as a birthday gift, non-taxable.  This can vary based on the time on the job or be the same across the board, but it's a great way to ensure continued loyalty and make your staff feel special on their big day.
 Major Life Events Gifts
Recognize significant events in your employees' lives, such as births, weddings, and even deaths.  Consider giving flowers, gift cards for food, or donations, depending on the event.
 Dinner Gift Certificates
Show your appreciation for hard work by giving out gift certificates for a night out.  Consider offering a babysitting stipend as well for those with families.
Holiday Themed Gifts
Throw together some Easter baskets, Valentine's cards or other goodies with the upcoming holiday theme for a cheap, cute and thoughtful employee gift.
Spa Gift Certificates
After a long day or week (or month or year!) of work, winding down with a massage, hair treatment, manicure or pedicure is often a person's favorite treat, so reward your staff with a gift they are sure to love!
Regardless of how you choose to show your appreciation, the important thing is that you do it even if some of them are employee appreciation ideas on a budget. Building mutual respect and loyalty between staff and management is crucial to the long-term health of your business. Taking the time to explore your options is the first step, so congratulations on taking it and on your future success!
Corban OneSource is a Mid-Market Human Resource Outsourcer or HRO for companies of 75 to 6,000 employees. Are you looking to outsource the core HR functions of Payroll, Benefits Administration and HR Support? Find out more here.