If you are considering outsourcing your Human Resources (HR) department, it can be difficult to know where to start. There are a lot of solution providers out there and they are represented by a range of different acronyms. Do you need a PEO, an HRO Service or an ASO? Those don't even cover all the options you have. It can be difficult to distinguish between them if this is the first time you're considering HR outsourcing.
These providers have different ways of approaching HR outsourcing, which means there are some that will be better suited to your business and industry than others. Here, we are going to take a closer look at HROs, PEOs and ASOs.
Human Resources Outsourcing (HRO Service)
The acronym HRO stands for Human Resources Outsourcing. This type of provider can service all or a portion of a business's human resources needs. Companies will use HROs for complex HR strategies or to simply supplement an overworked HR department. This means you should do your research before picking an HRO Service, because they may not have the right experience to be successful for your company.
Most companies that work with an HRO have at least 75 employees. Corban Onesource is a great example if you're looking to learn about HROs. Our clients typically have between 75 and 6,000 employees. We follow strict guidelines when it comes to maintaining compliance and maximizing efficiency. As an HRO, we also offer customized services based on our clients specific needs.
Modern HROs should also offer advanced technology platforms that can help simplify common HR processes. Companies with at least 100 employees face complex challenges handling payroll and employee benefits on a daily basis. You should review an HROs technology platform before hiring them as your provider.
A good HRO Service will also provide your company with access to a team of experienced HR managers. This is not the same as a provider that gives you an "Account Manager." Corban OneSource for example, employs a team of seasoned HR managers (averaging at least 15 years of experience). This is one of the reasons why 98% of our clients stick with us.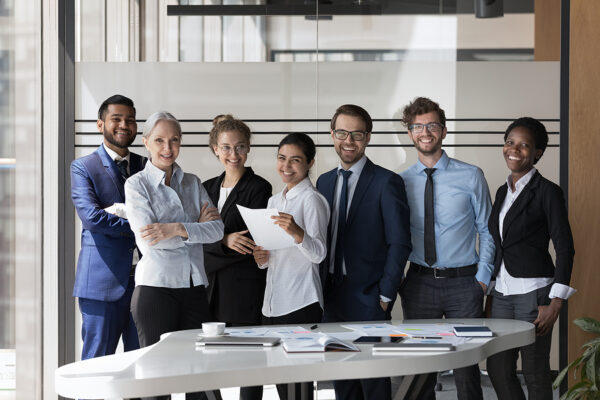 You should also know that there is no co-employment relationship if you hire Corban OneSource as your HRO Service. You will maintain control of your employees, as well as, all of the potential financial benefits that are due to your company (Tax Credits, Lower SUTA Rates, Lower Workers' Compensation Rates, etc.).
Learn More with Our HR Outsourcing Guide >>
Professional Employer Organization (PEO)
Compared to other outsourcing solutions, a professional employer organization (PEO) becomes the employer of record if your company partners with them. PEOs provide a full range of services like payroll administration, employee benefits, risk management and compliance regulation. However, your organization will need to adapt their business processes. This is why on average, businesses using PEOs have less than 20 employees.
An example of this would be picking a healthcare plan through this type of provider. You'll only be able to select a plan from the options the Determination PEO gives you. They will not customize the plan to meet your specific business needs. However, this can still translate into significant savings for unhealthy employees that would otherwise require higher rates.
You should note that the technology solutions most PEOs provide are reflective of the smaller companies that they typically work with. This would mean that it would be fairly limiting for a business that employees more than 100 people. State and Federal Labor laws change as your company grows, so compliance becomes increasingly important and technology starts to become a significant aspect of compliance.
Some additional considerations if you plan on partnering with a Determination PEO:
You Use the PEO's Workers' Compensation Plan
If there is a decrease in the workers' compensation rates in your state, it is up to the Determination PEO to pass on those savings to you. For smaller companies facing significant workers' compensation issues, they can significantly benefit from using a PEO's plan.
Under the PEO Co-Employment Agreement, You Lose Your FEIN Identity & Assume the PEO's
The benefit here is that it could make your company eligible for a lower SUTA (State Unemployment) rate. However, you'll need to keep in mind that your SUTA will "reset" to your state's mandated amount when you leave the co-employment arrangement. You'll need to take this into account if your company is growing, because you'll be at the higher rate for 10 consecutive quarters before it starts decreasing.
Determination PEO Account Managers Will Have 40 to 70 Clients on Average
For smaller companies with 20 employees, this isn't a big problem. Your HR outsourcing partner won't need to have a deep knowledge of your business in order to be effective. However, this does become a problem for a company that is growing and steadily approaching 100 employees. There are unique risks that come into play in your industry and a PEO will not be able to provide the level of service you'll require once your organization passes the 100 employee threshold.
"As we grew, we found ourselves needing more than our PEO could provide. We needed better technology and someone that understood our business and challenges better. We were at 130 employees, so it was like we were trying to put 130 lbs. in a 19 lb. sack."

CEO, 130 employee Distribution Company
Administrative Service Organization (ASO)
An ASO is almost identical to working with a PEO, but your organization will retain your unique tax ID number. The ASO is not the employer of record in this relationship. Due to their degree of similarity, most PEOs offer an ASO option. They'll provide all the same HR outsourcing services and technology, but your organization will get a different worker's compensation and benefits plan.
It should also come as no surprise that Administrative Service Organizations have the same limitations as Professional Employer Organizations. An ASO is a viable HR outsourcing provider for smaller companies, but problems can occur if you're organization is growing and hiring more employees.
Our HR outsourcing experts have found that ASO solutions work best for companies that have between 40 and 75 employees, as they have time to establish their own lower SUTA rate and can leverage a "large group" status for health benefits.
Find The Right HR Outsourcing Partner to Help You
Trying to find the right HR outsourcing provider can be challenging. You not only need to consider the needs of your company now, but where it may be in the foreseeable future. For that reason, you should be looking for a company that keeps up with trends and applies them on a regular basis.
Corban OneSource provides a comprehensive range of HR outsourcing services designed to meet the unique needs of each of our clients. This is why we are happy to report a 98% customer retention rate. You can request a free HR workflow analysis here and learn how our services can help you.