They say all good things must come to an end, and sometimes that means resigning from a job. Whether you are leaving a negative situation or moving on to greener pastures, it is important to close this chapter of your life responsibly. A professional letter 0r email of resignation will leave your former employer with a good impression of you and ensure that you are able to use that job as a reference if needed in the future.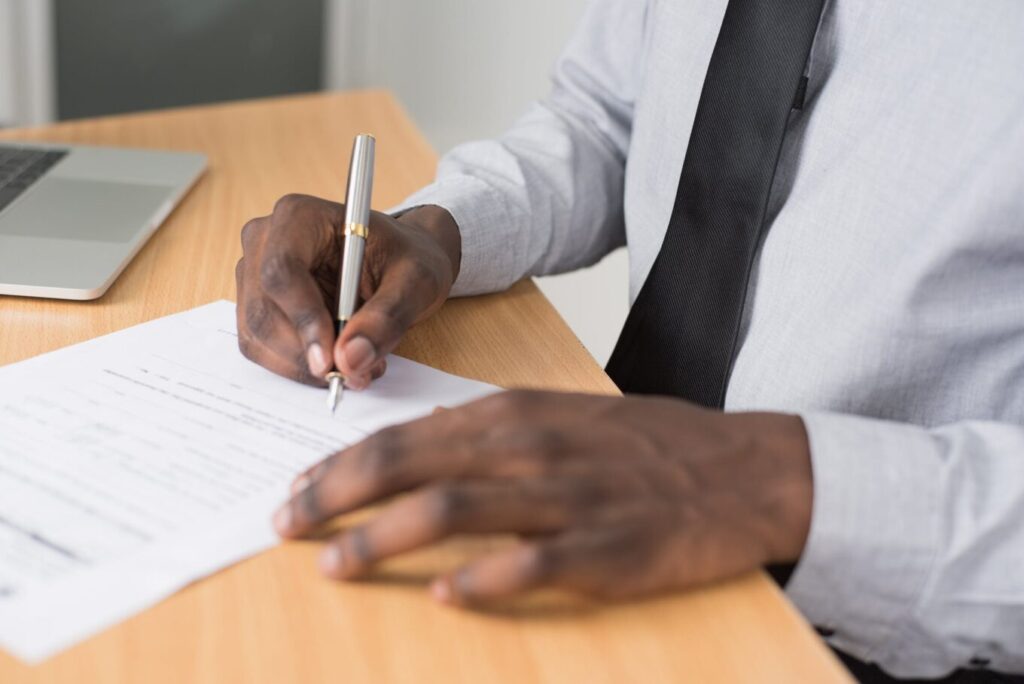 What is a Resignation Letter or Email?
Sometimes called a "two weeks notice letter," a basic tendering a resignation letter serves as a formal notice announcing your intention to leave your current position. It covers all of the important information you'll want to impart to your employer:  your intent to resign from your current employment, the specific date of your last day of work, and a thank you for the opportunity to have worked there and for the knowledge gained during that time.
A simple resignation letter is brief and to the point. It requires no explanation from you as to why you are leaving or where you are going. Generally, giving two weeks' notice to an employer is considered the professional amount of notice, since this allows the company time to find someone to fill that position. However, even if you give two weeks' notice before you plan to leave, some bosses may accept tendering a resignation and put it into effect immediately. It is wise to be prepared financially for that scenario.
Resignation letters without notice are sometimes necessary if a situation arises that makes giving notice difficult, but giving a proper notice that you intend to leave your job is still the better way to go to avoid burning any bridges.
In addition to professionalism, an official resignation letter also serves as proof to future potential employers that you left your position voluntarily.
How to Write a Standard Two Weeks Notice Letter
A resignation notice is a letter, and therefore, regardless of the delivery method, should be written in letter format. The letter of notice format can be a short resignation email, a written resignation note, or an official notice printed letter. Whichever medium you choose, the letter format is the same.
There are many nice resignation letter templates available online to walk you through the presentation of your letter. It's also a good idea to write different versions of the letter if you are sending your notice of resignation to your coworkers, manager, and boss. In general, they will all include the following:
The date of the letter. This is very important to have proof of when you sent the notice of intent to resign to your employer. It can also help you in the future if issues surrounding your resignation arise.
A subject line for emails. This is not the time for surprises. In many cases, the tendering a resignation will come as enough of a shock to your coworkers or management. Using a proper subject line, like "Notice of Intent to Resign," will give the recipient an idea of what they are about to read and make it easier to digest.
Greeting. This is a letter, and it should have a professional greeting. If you are working in a small office, the greeting can be personalized to your boss or office manager. If it is a large company and you are writing to Human Resources, you may want to put "To Whom it May Concern" as your greeting.
Notice of leaving the job and last day of work. This is the main body paragraph. Keep it short and succinct. You do not have to explain where you are going or why you are leaving, but if you choose to, this is your place to put it. Giving a gentle explanation can help soothe any hard feelings that may come from your intent to leave your position. You may choose to say you are moving if that is the case, that you are returning to school, or branching into a new field to further your knowledge. Offering to help with the transition by training the new employee taking over your position is a considerate way to preserve the goodwill between you and your soon-to-be former employer and coworkers.
Niceties. A difficult blow is always easier to receive when it is dealt with kindness, and manners are never out of place. Regardless of the reasons for leaving your job and writing your official letter of tendering a resignation, it is a good idea to throw in a "thank you" in your next paragraph. You most likely learned a valuable skill during your time of employment, so you can thank your boss for the opportunity to have worked for them, or any other positive aspect of the job – support, encouragement, friendliness, teamwork, etc.
Contact information. You may need to leave your contact information in case financial questions come up in the future. For example, your final paychecks, insurance cancellations, or retirement and 401k policies may have to be addressed. Dropping off the grid can be costly to you, so it is a smart idea to leave your future contact information when resigning from a position.
Closing. A polite, formal closing with "Sincerely" and your name and signature will be the final element of your tendering a resignation letter format.
It can't be stressed enough that no matter how nicely written and professionally formatted your letter is, if there are errors, it can detract from the overall effect. Before you turn it in, have your resignation letter reviewed by someone you trust to find any mistakes, or hire an online professional editor if you need to. Don't forget to keep a copy of the resignation letter for your records and for future reference.
Example of the Best Resignation Letter
The best resignation letters are polite, respectful, and to the point. No matter whether you choose to submit your letter via email or in letter form, the template will use the same format. Use the following basic sample resignation letter to guide you, but be sure to tweak it where appropriate to fit your specific job situation.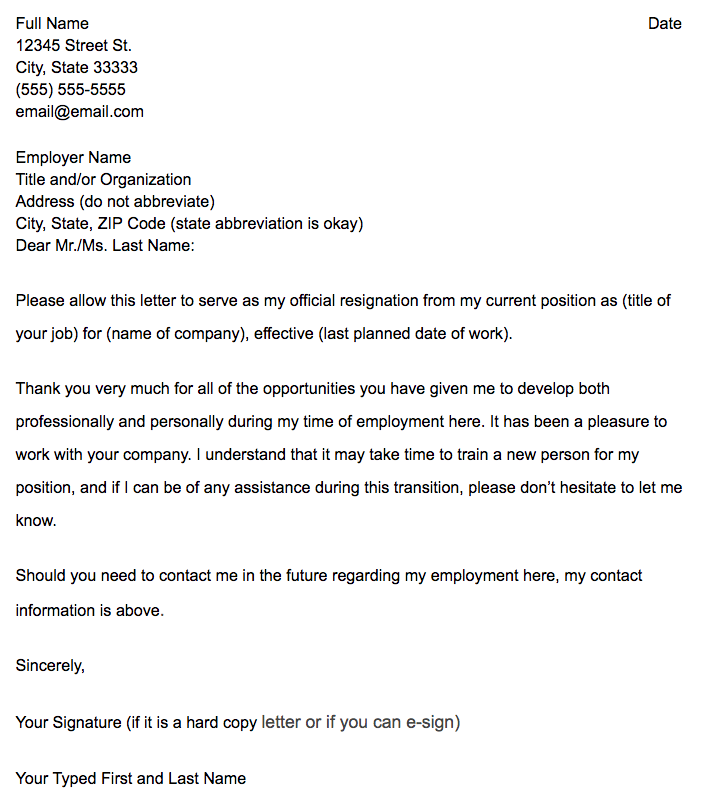 Once you have submitted your resignation letter or email, continue to do your job as you always have and remain professional. Keep any negative reasons for your intent to resign to yourself, no matter who you are talking to. If tempted, just remind yourself that you are moving on to bigger and better things as you close this chapter of your life in a professional, responsible manner.
Corban OneSource is a Mid-Market Human Resources Outsourcer or HRO for companies of 75 to 6,000 employees. Are you looking to outsource the core HR functions of Payroll, Benefits Administration and HR Support? Find out more here.