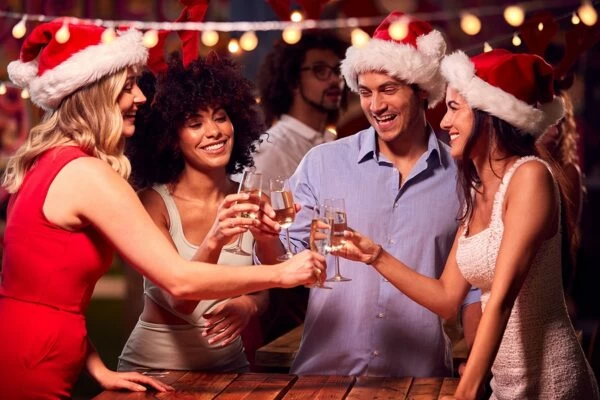 It's the most wonderful time of the year
The months of November and December are  filled with Turkey, Pumpkins pie, Christmas carols, ridiculous amounts of sugar, and spending time with loved ones. Also making an appearance – the office Thanksgiving and Christmas parties. Human resources experts typically see these kinds of parties as a hot spots for potential HR mishaps. On the other hand, the office Thanksgiving and Christmas parties party are a great opportunity to connect, bond, and share in joy with your co-workers and employees.  For example, you can get everyone to collaborate on a digital streaming service and create your Office Christmas Party Soundtrack
The trick is to determine ahead of time what works and does not work for your office. While for some this might seem like nothing short of a Christmas miracle, the key is to create a warm, welcoming, and fun environment with certain standards and rules. Nobody wants to attend an office Christmas party planned by the Scrooge, but nobody wants to experience all those potential HR mishaps also.
Consider different plans and activities and figure out what your employees will enjoy the most. Is it something light and fun like a white elephant gift exchange or more personal such as secret santa? Planning a party with activities will allow for more opportunities for your employees and co-workers to connect and create memories and help to keep the party from getting out of hand.
The Society for Human Resources asked Cassandra Pratt, human resources and recruiting director for Progyny what she would suggest for a fun, but HR mishap-avoiding party. Pratt recommended ideas such as:
limiting the hours to starting right after work, so there is excessive pre-partying
create a "respect memo" that states company policies
limit alcoholic beverages with the possibility of using a ticket system where each person can only have a certain number of drinks
do more than serve drinks such as activities and games
Have lots of great music for your Office Christmas Party Soundtrack
Your employees can also tell when a boss throws a Christmas party because they have to, certainly not because they want to. It's obvious when a boss is begrudgingly putting on a party with minimal effort. By putting effort in and throwing a party meant for your employees to enjoy, it will not go unnoticed. Instead, it is likely something that will be remembered as a great office Christmas party. Who doesn't want to be known as a great party thrower?
Entreprenuer writer Jack Kilroy states, "…. When you throw your company Christmas party…be the employer that wants to do it, wants to show appreciation, wants the pat on the back to last another year. If you give a little extra in December, your employees will give a little extra the other 11 months."
Spread the Christmas cheer with your co-workers and employees and have a very Merry Christmas!
Corban OneSource is a Mid-Market Human Resource Outsourcer or HRO for companies of 75 to 6,000 employees. Are you looking to outsource the core HR functions of Payroll, Benefits Administration, and HR Support? Find out more here.