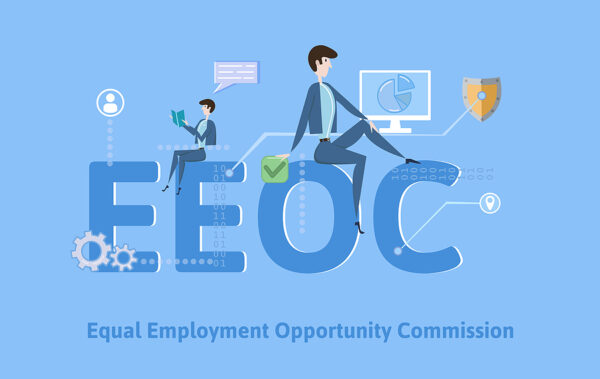 One of the multitude of things you as a business manager have to deal with is ensuring that all of your employees are receiving equal and fair opportunities in their jobs.  However, sometimes, regardless of the best of intentions, you may find yourself faced with a complaint in which someone states that they were treated unfairly. Here is how to win an EEOC complaint.
If this happens, you likely will be dealing with the EEOC, the Equal Employment Opportunity Commission.  Understanding this commission and their resources can help you to avoid what could lead to an EEOC charge of discrimination filed against you or your business.
What Does EEOC Stand for and What do They do?
The U.S. Equal Employment Opportunity Commission was established to enforce federal laws against discrimination of a job applicant or employee.  Discrimination can take the form of race, color, religion, sex, national origin, age, disability, or genetic information.
The EEOC's authority covers investigating charges of discrimination when someone files an EEOC complaint. The EEOC complaints process involves a thorough investigation that is fair and accurate.
If the charges are found to be accurate, the EEOC has the right to attempt a settlement, or, if a settlement is not possible, the EEOC can file a lawsuit to protect the rights of the victim of discrimination.  Don't assume you can't win.  Here is how to win an EEOC complaint.
What is the EEOC Complaint Process?
Any individual intending to file a lawsuit making claims of discrimination in the workplace based on any of the factors listed above must first contact an EEOC counselor within 45 days of the incident that they believe to be discriminatory.  The counselor will provide the individual with an initial counseling session, where he or she will be informed of their rights and responsibilities and the steps that will take place during the complaint process. Through this counseling session, or an alternative dispute resolution program, the individual can determine whether or not they want to file an official complaint.
Once an official complaint is filed, the responding agency must conduct an investigation that is both impartial and factual.  This investigation has to be completed within 180 days of the date the complaint was filed. From there, an offer of resolution may be determined, or a request for a hearing can be made.
A Notice of Right to Sue can be given to the complainant after 180 days of the investigation, or if the EEOC agency feels that the investigation will take longer than 180 days to complete.
What will you be Expected to Provide in the Event of a Complaint?
If you are informed that a complaint was alleged against you, this does not mean you or your business is guilty of discrimination.  It simply means someone made a complaint, and you have to explain your actions.
You will be requested to provide a statement of position, telling your view of what happened.  They will submit an RFI, or Request For Information, asking for all applicable personnel files and other information pertaining to the incident in question.  Additionally, an on-site visit will likely take place and the EEOC will contact employees and complete witness interviews.
Remember, this is not an attempt to prove that you acted discriminatorily.  This is an opportunity for you to present facts, and the investigator to determine what truly happened.
What are Common Mistakes that can be Avoided when Dealing with the Equal Employment Opportunity Commission?
Many businesses make minor mistakes in policies and behavior that can turn into major issues.  Arming yourself with the knowledge of how to avoid an EEOC complaint is crucial, and the best way to do this is to be proactive.
Proper business protocol should include having an EEO policy in place with specific procedures in the event of discrimination complaints.  Managers and employees should all have consistent and up-to-date training on avoiding anything that could be construed as discriminatory or harassment. Keeping these trainings and policies recorded and accessible can help protect a business that has had a discrimination complaint lodged against them.
In addition to keeping those records, personnel files should be maintained and kept updated.  Payroll records should be kept for three years, and files on any employees who were terminated should be saved for at least one year.  Instances of events leading up to the termination should also be recorded in detail.
In the event that employees are paid different wages for the same work, records should be kept explaining the discrepancies (i.e., seniority, further education, job evaluations, etc.).  This can be a barrier against complaints of a disgruntled employee who feels they deserve the same salary a co-worker receives.
Record keeping and continuing education can be an added expense on a tight budget.  However, their costs are minor when compared to the potential expenses of a discrimination lawsuit.
If your company is found to have discriminated against someone during their employment with you, you can expect to pay, at a minimum, attorney's fees, back pay and medical costs.  You may also have to cover emotional expenses for mental anguish, or punitive damages up to $300,000.
Cover Your Bases
The EEOC has cracked down on enforcing equality in pay and protecting immigrants, migrants and other workers against harassment and discrimination.  Staying updated on the changes in EEOC laws, and ensuring your employees know about these changes as well, is the first step to covering your bases and avoiding any discrimination complaints.
Equal Employment Opportunity Commission.  (n.d.) Retrieved April 26, 2018 from https://www.eeoc.gov/eeoc/index.cfm.
Equal Employment Opportunity Policy: Detailed.  (January 12, 2018). Retrieved April 26, 2018 from https://www.shrm.org/resourcesandtools/tools-and-samples/policies/pages/cms_007618.aspx.
We hope this helps you learn how to win an EEOC complaint.  If you want to get this off your plate so we handle such complaints than contact us to handle your HR Administration needs.  Corban OneSource specializes in companies with 75-6,000 who need help in the core HR tasks of Payroll, Benefits Administration, and General Administration.  Find out more about how Corban can help you strategize HR solutions fast.